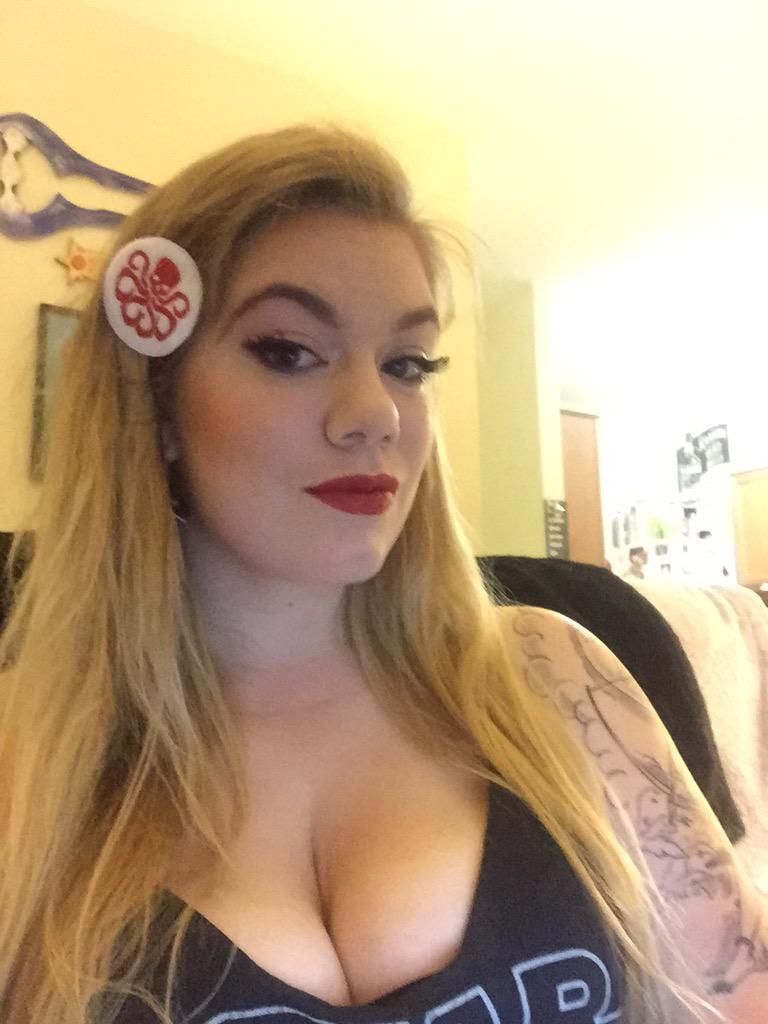 Freakhopper, also known as Angela and she is an amazing Twitch streamer. She is 27 and she is beautiful. She started streaming in December, and her 1 year anniversary is coming up. She had been exposed to twitch in passing for gaming events but didn't really know what streaming was until she tried it out. She said that she won a PlayStation 4 from taco bell and she decided to ditched her Xbox 360 and when learning the new system, she found the share button that led her to streaming. She is active duty enlisted Air Force, which I find that awesome because I love the military. It has been her best job to date. She told had interacted and met so many amazing military members online while gaming. When she grows up and get out of the USAF, she will most likely return to government service. Depending on if some gaming or tech company doesn't sweeps her off her feet. Which I could see that happening because she is great with gaming and she is really funny. When I asked her about what makes her different, she told me that she wasn't different but she was unique. She said that this was because of her brutal honesty, sarcasm and unfolded elite-ness. Then she said that she was so very ugly, which is not true at all. She is a beautiful, fun, amazing streamer who doesn't give herself enough credit. She told me that at least once a night she would have a monster sound, ugly face, ridiculous and weird outburst. But that makes her fun, not ugly.
Every time she makes a dime when streaming, she uses that money for the stream. She said that every amazing thing that she finds, she could not have found it anywhere else. I asked Angela that if a kid walked up to her and asked her for advice, what would she say? She said this: "Don't stop having fun and being yourself. You don't need people to like you and you don't need lots of viewers to be "successful". If you stop enjoying what you do than you are going down a dark road. Stress and depression are real struggles that really strong people have to deal with. Gaming should never be part of that equation. If you are not being yourself you will lose yourself." And that is so true and I can't believe someone like her would say this. this is another reason why she is so amazing.
She primarily plays FPS games and but also plays RPG style games and freakhopper is waiting for a new MMORPG to play. She was born and raised in the USA. But she is primarily Scandinavian by heritage but only worth noting because she was adopted and had always wanted to know. She was thrilled and petrified when she had 1,000 views during one of her streams. The first giveaway she said she done was a memorable mess. She feels most accomplished in the fact that she ended up putting herself out there to start streaming as she wanted to. When she first started she was so nervous about how she was being perceived. She is most proud on feeling like can be myself in my own space and not owing anything to anyone. Angela is an amazing streamer and you should check her out. She is great at what she does and I hope that she doesn't stop streaming for a very long time.
She wanted to add this: "On the precipice of my 1yr mile marker I feel like I am just starting. Partnership is in the horizon and with my unwavering core I still have a bountiful amount of hurdles ready to thwart me. I love to game and I love streaming. I plan on continuing my growth in both." And to the people that read my blog, never, ever give up. If there is something that you are planning to do, don't give up, don't let anyone tell you that you can't do something. If you keep trying, then maybe, some day you will be famous, just maybe you could help save someone's life.
Do you like Minecraft or maybe just subscription boxes in general? Check out Mine Chest! Mine Chest is an OFFICIAL Minecraft monthly subscription box. You will get a box full of Minecraft related items! Click here and check it out:
http://www.minechest.com/#_l_21
As always if you enjoyed then make sure to follow me on Facebook and Twitter by clicking the links: https://www.facebook.com/tommysblog676 , https://twitter.com/TLallemand1 for information on next post. You can also comment there on Facebook and/or Twitter. You can also comment down below, but let me know what you guys think of my reviews and interviews.
Email me at
tommysblog17@gmail.com
for ideas and if you want to send me anything or wanna say hi. Give me some ideas on what to review next and I am always open to reviewing something you guys have and want to get out there. Also click the link to get your very own
Geek Fuel Subscription box
where you will get game and movie related collectibles and a cool
T-Shirt
every month.
https://www.geekfuel.com/Kvz7NM
.
Also use this link to get NoScope Gaming glasses. If your eyes start to hurt when looking at a screen to long, these can help you with that. They make it to where your eyes don't hurt when looking at a TV or computer screen. All the pro gamers use them. https://www.noscopeglasses.com/gaming-glasses?tracking=tlallemand_212