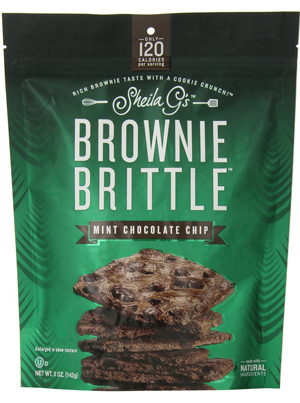 I did a review of Brownie Brittle Chocolate Chip and in that review I said that there were other flavors out there, so I went out and got the mint chocolate chip flavor. It starts off with just a chocolate flavor and then the mint is sort of like the after taste of it. The mint flavor is not all that strong and you can't really taste the brownie part of it. I don't know what happened but it tastes like mint and chocolate, almost like a candy bar. It is still crunchy though which I am happy about that but these are not as good as the plain chocolate chip bag that you can. I was not a big fan of the Brownie Brittle Mint Chocolate Chip flavor. Maybe if they were to make the mint not as strong as it is now, these would probably taste better. They are the same price as the other ones and I will link my review of the chocolate chip ones at the end of this and I recommend you check that post out. The bag is a 5 OZ (142g) bag so you get your moneys worth, just like the rest of them and you can find where to buy these on the website:
http://browniebrittle.com/products/
. Brownie Brittle is really good but I was not a big fan of this flavor. You can check out my other review of the Brownie Brittle Chocolate Chip by clicking here:
http://lallemandblog.blogspot.com/2015/11/brownie-brittle.html
Hope you enjoyed and have nice day. Also please read the whole post because down below there is some cool and also some important info.
If you would like to get to know me and read about why I started this blog then click here: http://lallemandblog.blogspot.com/2015/11/my-bio.html
Also, check out Minechest. They are a monthly subscription box that sends Minecraft related items to your door every month. I know, awesome right?!! So yea, click here:
http://www.minechest.com/#_l_21
and go check out all the cool stuff they have in the Minechest.
As always if you enjoyed then make sure to follow me on Facebook and Twitter by clicking the links: https://www.facebook.com/tommysblog676 , https://twitter.com/TLallemand1 for information on next post. You can also comment there on Facebook and/or Twitter. You can also comment down below, but let me know what you guys think of my reviews and interviews.
Email me at
tommysblog17@gmail.com
for ideas and if you want to send me anything or wanna say hi. Give me some ideas on what to review next and I am always open to reviewing something you guys have and want to get out there.
Use the link below to get some NoScope Gaming glasses. If your eyes start to hurt when looking at a screen to long, these can help you with that. They make it to where your eyes don't hurt when looking at a TV or computer screen. Plus when you wear these, you look pretty fool. Most of the pro gamers use them. https://www.noscopeglasses.com/gaming-glasses?tracking=tlallemand_212