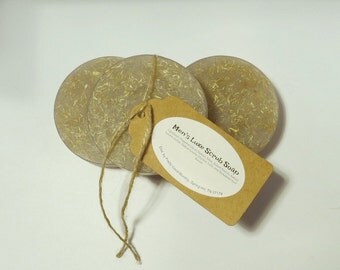 I have been sent a Pretty Good monthly subscription box. This is a subscription service where you get sent craftsmen soap. I got the Pretty Good Little box, which is soon to be the normal box, for the month of December 2015. The box I got is just one bar of soap and it is $4.99 every month. This one will be the normal monthly box. They also have the box which has three soaps in it and starting in January of 2016, this will be the quarterly box. That one is 12.99 every three months.
The soap I got is the Men's Luxe soap. It came in a little plastic pouch with a little tag on it telling you what it is. This is a round bar of soap which is a tan color. It smells really good and has a smooth texture to it. Also all through the soap there is luffa. This is something that helps give extra exfoliation. With the luffa, I could feel it helping get my body extra clean. The soap is hard and firm so it does not break apart as easy as other soaps I have tried. Now with this soap, my body actually felt clean and my skin felt smooth. I had a lot of dead skin on my body and after using the soap, it was gone and my skin was smoother than it has been for years. Also, since it was round instead of an oval shape, I found it easier to keep a grip on and that is important for someone with ataxia.
If you are looking for some good soap to use then try the Pretty Good subscription. Their soap is handmade and works very well. It works better than the soap you get at the store. If I had the money, then I would get this soap every month. Also it is hand made and good for your body. You can subscribe by clicking here: https://prettygood.cratejoy.com/subscribe/
If you are looking for gluten free food, read about Send Me Gluten free. They send people gluten free snacks. Every month you can get new gluten free snacks at your door step. I am doing a giveaway on this post to a Send Me Gluten Free subscription box:
http://lallemandblog.blogspot.com/2015/12/send-me-gluten-free-december-2015.html
Read the review to find out how to win one for yourself.
Also, check out Minechest. They are a monthly subscription box that sends Minecraft related items to your door every month. I know, awesome right?!! So yea, click here:
http://www.minechest.com/#_l_21
and go check out all the cool stuff they have in the Minechest.
As always if you enjoyed then make sure to follow me on Facebook and Twitter by clicking the links: https://www.facebook.com/tommysblog676 , https://twitter.com/TLallemand1 for information on next post. You can also comment on Facebook and/or Twitter. You can also comment down below, but let me know what you guys think of my reviews and interviews.
Email me at
tommysblog17@gmail.com
for ideas and if you want to send me anything or wanna say hi. Give me some ideas on what to review next and I am always open to reviewing something you guys have and want to get out there.
Use the link below to get some NoScope Gaming glasses. If your eyes start to hurt when looking at a screen to long, these can help you with that. They make it to where your eyes don't hurt when looking at a TV or computer screen. Plus when you wear these, you look pretty fool. Most of the pro gamers use them. https://www.noscopeglasses.com/gaming-glasses?tracking=tlallemand_212